lemme introduce you to my second J-RBand
Their song

The Invisible Wall

is the one who introduced me to them
=P
The GazettE
The Gazette (ガゼット Gazetto?, stylized as the GazettE) is a Japanese

visual kei

rock band formed in early 2002. The band is currently signed to

Sony Music Japan's VVV Records.

In addition to being one of the more popular bands in the visual kei scene, The Gazette has gained a large international following and to some degree managed to break into the mainstream Japanese music industry.
Ruki (lead vocals)
Real name: Matsumoto Takanori
Date of birth: 1-02-1982
age: 25
Birthplace: Kanagawa
Blood type: B
Height: 162cm
Piercing: 5 in his right ear
Favourite Colour: violet, red, black, silver
Hobbies: shopping(window-shopping), television
Cigarette: Marlboro Menthol Light
Family: Parents, older brother
Animals: dog [Chihuahuas], cat
Ring size: 17 (middle finger)
Favourite brands: PINK DRAGON, THE GAMBLER$, Anticlass, Creamsoda, Rude gallery
Aoi (guitarist)
Real name: Joyama Suguru
Date of birth: 20-01-1979
age: 28 (the oldest in the band)
Birthplace: Mie
Blood type: A
Height: 171cm
Weight: 55kg
Favourite Colour: white, black
Hobbies: compose, guitar solo
Cigarette: Marlboro Menthol
Family: Parent, older brother, older sister
Animal: dog, cat
Ring size: 19-23
Favourite brands: BVLGARI, Vivienne Westwood, Dolce & Gabbana, Armani
Favourite drink: SUPER DRY, coffee
Uruha (guitarist)
Real name: Takashima Atsuaki
Date of Birth: 9-06-1981
age: 26
Birthplace: Kanagawa
Blood type: O
Height: 177cm
Weight: 62kg
Favourite Colour: violet, grey
Hobbies: billiard, pachinko, bowling, soccer
Cigarette: Marlboro Menthol Light
Family: Parents, 2 olderes sister
Animal: dog, ours polaire, penguin, canard domestique
Ring size: 19
Favorite brand: PPFM ,CHROME HEARTS, Rude gallery, dokomo
Parfum: Gucci Rushes, Bvlgari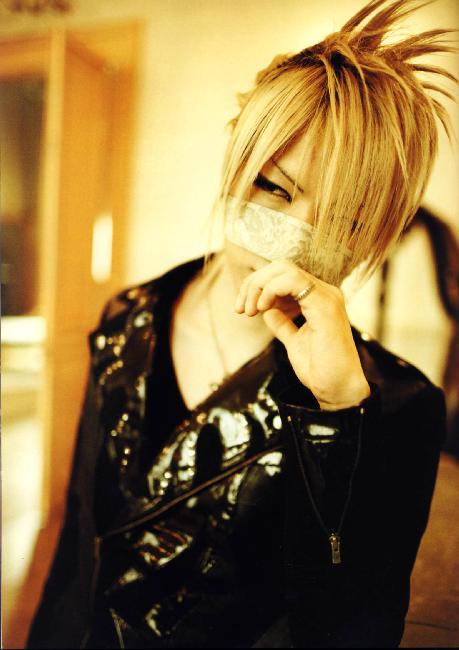 Reita (bassiste)
Real name: Suzuki Ryo
Date of birth: 27-05-1981
age: 26
Birthplace: Kanagawa
Blood Type: A
Height: 172cm
Weight: 55kg
Favourite Colour: violet, rouge, white
Hobbies: Watching movies
Cigarette: Mild Seven Lights
Family: mother, grandmother, older sister (surrounded by girls^^)
Animal: parrot
Ring size: 17
Favourite brand: Deal Design, King Mob Tenderloin, Anticlass
Favourite drink: Liveguard
Favourite movie: Face Off
Favourite Manga: Initial D
Kai (drummer)
Real name: Uke Yutaka
Date of birth: 28-10-198
age: 26
Birthplace: Tokushima
Blood type: B
Height: 172cm
Weight: 55kg
Colour: black, red, white, blue, silver, gold
Hobbies: cooking, soccer, collecting lighters
Cigarette: Red Marlboro Box
Family: Parents
Animal: dog, tiger, alligator/crocodile
Ring size: 19 - 21
Favourite brands : Custom culture, Justin Davis and TENDERLOIN Favourite drink : apple juice (he'd rather have that than alcohol) Piercing: 2 in left ear
Favourite type of girl: friendly
Labels: JPOP, The GazettE