You see that guy above ? It's
Ikuta Toma
~ He would be playing Yano Motoharu in Bokura Ga Ita Live-Action. I am spazzing rainbows right now. No seriously, I think he would be perfect for the role. Ikuta Toma would be perfect. I'm excited as fuck!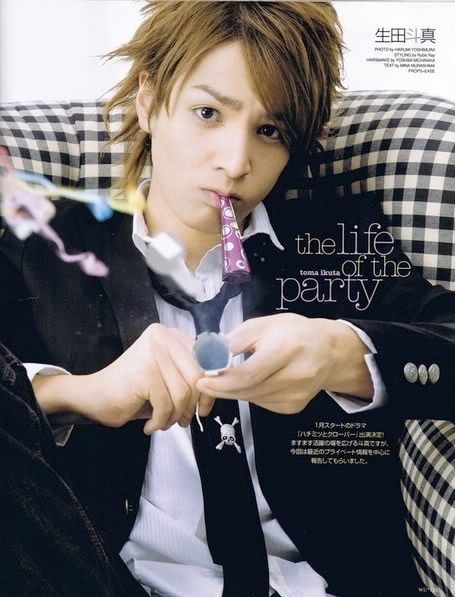 Toma Ikuta born October 7, 1984 in Hokkaidō is a Japanese Tv and stage actor under the supervision of Johnny's Entertainment Inc.
His family consists of a father, a mother named Hiromi, a younger brother named Ryuusei, and a dog named JAM-chan. His father wanted to name him Ikuta Tamegorou, but his mother changed it to Toma because it was easier to say. He used to be called Toma, Touma, or Toma-chan by his family and friends. Younger juniors in the agency used to call him Toma-san and that morphed to Tomasu. This name was used to be his "trademark" as he hosted a show named Meitantei Tomasu in the Shounen Club program.
Height: 173cm
Weight: 58kg
Birthdate: October 7, 1984
Birthplace: Noboribetsu, Hokkaidō
Talent agency: Johnny's Entertainment
Education: Horikoshi Koukou, Art Course (graduated)
Siblings: A younger brother named Ryuusei
Horoscope sign: Libra
Blood type: A
Hobbies: Listening to music at deafening volume
Preferred Sport: Soccer (Midfield)
Favorite Food: Hamburgers, Curry Rice, Hayashi Rice
Favorite Colors: Black and White
Favorite Music Artists: X-Japan, GLAY, Mr.Children, Metallica, Guns N' Roses, etc.
Favorite Actress/Actor: Matsu Takako
Best Subject: English and Society
Worst Subject: Mathematics
Best Friends: Tomohisa Yamashita, Imai Tsubasa, Jin Akanishi, Yuu Shirota, Oguri Shun, Matsumoto Jun
Special Skill: Dancing, singing and acting